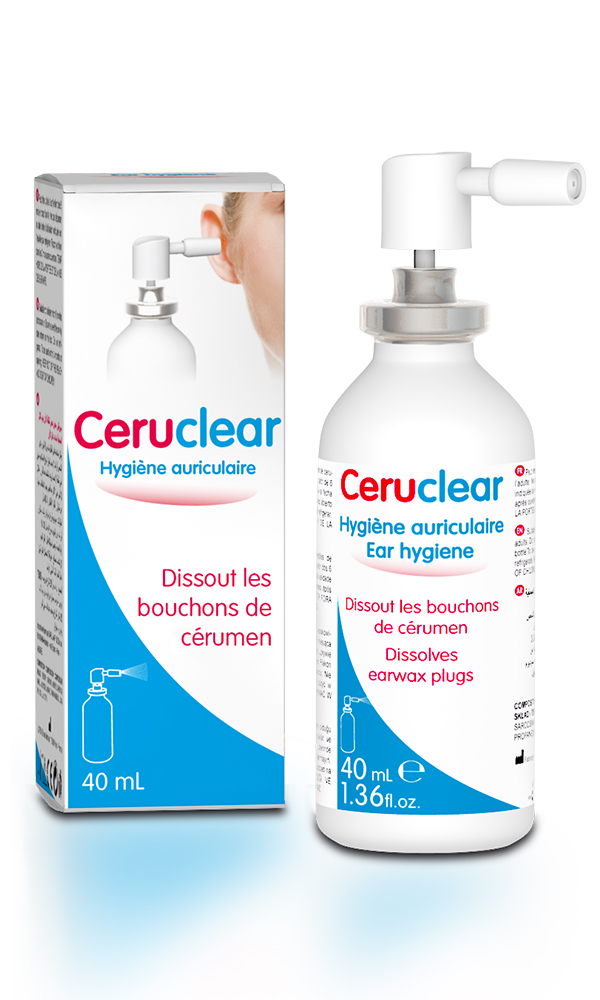 CERUCLEAR is an ear hygiene solution in a spray that gently cleans the outer ear canal, by rinsing and without using a cotton bud. Its formula, based on surfactants, softens and helps to dissolve earwax plugs.
Used daily, CERUCLEAR helps to flush out impurities and prevent the build-up of wax.
CERUCLEAR is suitable for children aged 6 months and over and for adults.
COMPOSITION:
Surfactants, moisturizing agent, colouring of vegetal origin, excipients q.s. 100 %.
Preservative-free colored formula of natural origin. From 6 years-old.
DOSAGE:
For routine ear hygiene: use twice a week.
If the ears are blocked with wax: use twice a day (morning and evening) for 3 to 4 days.
For more information: http://www.ceruclear.com/index.html
CE This medical device is a regulated health product which bears the CE mark, in keeping with this regulation. Ask your pharmacist for advice. Please read the leaflet carefully before use.