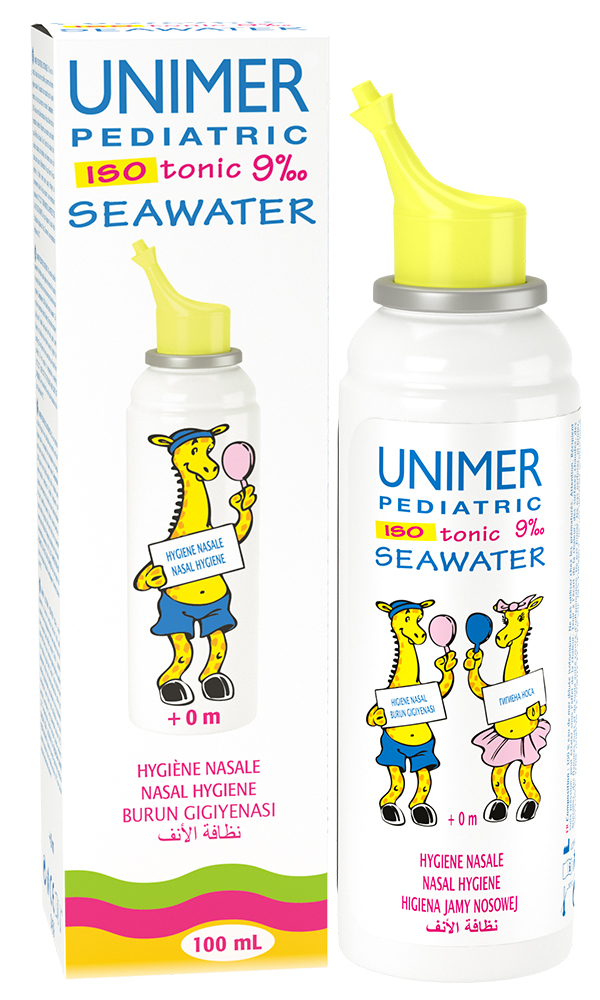 Effective nasal hygiene encourages protection of the nasal mucosa against outside attacks (cold, allergens, dry atmospheres, pollution, etc.) and helps the nose ensure its respiratory function.
BENEFITS:
Thanks to its special nozzle with a safety nib, UNIMER PEDIATRIC ISOTONIC 9 ‰ can be used from birth.
Micro-diffusion gentle and regular that leaves homogeneous layer on the nasal mucosa.
Valve-on-bag system the formula preservative-free is preserved from risk of contamination even after opening.
Protective cap: to guarantee better hygiene.
INDICATIONS:
UNIMER PEDIATRIC ISOTONIC 9 ‰ can be used:
To ensure effective nasal hygiene, eliminates impurities and facilitates nose blowing,
To encourage prevention of rhino-pharyngeal infections,
To remove mucosity in obstructed nose during colds,
To ensure protection of the nasal mucosa against attacks (cold, pollution, dust, pollen..) and strengthens its defenses.
COMPOSITION:
100% natural isotonic seawater ( 9g/L of NaCl – saline solution).
The seawater is sourced from the Bay of Cancale (France) and is preservative-free.
POSOLOGY:
1 pulverization per nostril, preferably before each meal, 1 to 4 times a day depending on needs.
UNIMER PEDIATRIC ISOTONIC 9 ‰ can be used daily for a long period of time.
Can be used from birth thanks to its micro-diffusion and nasal tip adapted for the nostrils of the infant.
CE0459 This medical device is a regulated health product which bears the CE mark, in keeping with this regulation. Ask your pharmacist for advice. Please read the leaflet carefully before use. Do not use in premature infants.